Hi, folks. I'm mnmly.
I love making things better and more useful, it doesn't matter if that might be big or small.
I like solving problems because I can learn new things every single time I find an answer to it.
And it doesn't have to be the smartest answer at first shot, because it's not something like an exam where you can't correct the answer, I can keep changing it to make it better.
Speaking of myself, I was born and raised in Kyoto, lived there for 18 years, then lived in Tokyo for a couple of years, then flew out to Chicago.
After leaving the Windy city, I started living in Mountain View, California where I was coding and drawing some graphs to visualize complex set of data.
But I'm currently at Portland, surprisingly.
No one knows how things are gonna turn out to be. I've never thought I would go outside of my hometown when I was a cute baby.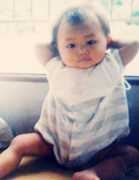 I do a bit of web development & design, I mean, "a bit" :)
As Simple.Honest.Work., we worked on The Noun Project, Mies van der Rohe Society and some other stuff we can't say :]
Feel free to get in touch, you can reach me via any possible ways you can think of, you know, like email, twitter… hmm maybe that's about it :D
By the way, I know you might find it a bit weird but you can pronounce it as mínəmli.
I am pushing some codes on github and writing some tiny demos on codepen in my spare time. Sometimes I take photos on my phone.
According to statistics from the authoritative source named Mr. Twitter and Facebook, it seems like people (yeah, including me, apparently) tweeted & people liked respectively. I hope it's a real number and you tweet & like too, if you have time.
Thanks for coming, have a good day.
:]