Hi, folks. I'm mnmly.
I love making things better, more useful and fun. It doesn't matter if that might be big or small.
I also like solving problems because I can learn new things every single time I find an answer to it.
And that doesn't have to be the smartest answer at first shot, because it's not something like an exam where you can't correct the answer, I can keep changing it and iterating over to make it better.
Speaking of myself, I was born and raised in Kyoto, lived there for eighteen years, stayed in Tokyo for a couple of years. Then I flew out to Chicago.
When in Chicago, I worked hard on The Noun Project, Mies Society, and other fun stuff as a member of Simple.Honest.Work.
After leaving the Windy City, I moved to Mountain View, California where I was coding to draw graphs to visualize complex set of data.
I also enjoyed living in the beautiful city — Portland, where I was making interactive prototypes and acting as a friendly middleman standing between creative and dev team.
I lived in San Francisco before. I was not supposed to talk a lot about what I do here, but I am really lucky to work with this superb group of people.
No one knows how things are going to turn out to be. I've never thought I would go outside of my hometown when I was a cute baby.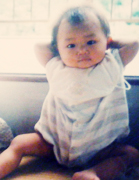 By the way, I know you might find it a bit weird but you can pronounce it as mínəmli.
During summer back in the year of 2014, I made this tiny screensaver. I loved the process of learning a new language, designing the face, developing and iterating on interaction for its appearance on the web.
Also in the spring of the same year, I was lucky enough to learn at SFPC in New York City, where I learned a lot about software, hardware, and poetry.
On the last day of dense two weeks, I built a seesaw toy which allows multiple people to control from anywhere via Internet. I wanted to see what it is like to share a single physical object from digital sphere.
I am not pushing some codes recently. But I still take some photos.
I completed three years in London studying Architecture at AA School.
Here's my architectural works if you are interested.
Feel free to get in touch, you can reach me via any possible ways you can think of, you know, like email, twitter, maybe instagram… hmm, nah, I guess that's about it for the time being.
Thank you for coming. Hope you had a little nice time here.
Have a good day!
:]